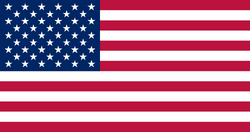 The United States of America (or Simply known as the USA or the or even simply known as America) is a country in north America. It consists of 50 states exactly. In World War II, The Americans joined a Pacific battle with the Japanese of the Empire of Japan. In World War IV, they were defeated and the country was split up between others.
Role in Call of Duty
Edit
America takes place in every single Call of Duty game. They play to role of the allies. They attempt to stop the Nazis in the Call of Duty games as do they try to stop the terrorists of Asia in Call of Duty 4: Modern Warfare. In Call of Duty 4, they play a bigger role than the other Call of Duty games.