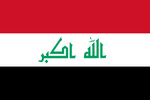 Iraq is a country in Middle East.
Call of Duty 8: New World
Edit
Its supposed role in the game was leaked on a website, however this information may not be correct. If it is in Call of Duty 8, then it will either be a part of the SCO, under control of the European Union, or under control of Islamic extremists.
Call of Duty: Endgame
Edit
The country ends up being taken over by Shanghai Cooperation Organization forces, along with the rest of the Middle East. Iraqi forces fought alongside the United States of America, but were defeated.
Ad blocker interference detected!
Wikia is a free-to-use site that makes money from advertising. We have a modified experience for viewers using ad blockers

Wikia is not accessible if you've made further modifications. Remove the custom ad blocker rule(s) and the page will load as expected.