Defection is the seventh level in Call of Duty: Modern Warfare 4. The mission involves both the Green Berets and the Marine Recon trying to take out Nguyen Van Hutuh.
Starting Loadout
Edit
Found In Level
Edit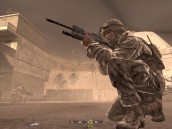 This level looks like Crisis from Black Ops.
Ad blocker interference detected!
Wikia is a free-to-use site that makes money from advertising. We have a modified experience for viewers using ad blockers

Wikia is not accessible if you've made further modifications. Remove the custom ad blocker rule(s) and the page will load as expected.