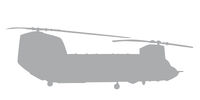 The CH-47 Chinook is an American twin-engine, tandem rotor heavy-lift helicopter. It is used primarily by the US Military and the Royal Air Force as a heavy-lift and troop transport. The CH-47 is among the heaviest lifting Western helicopters.
The CH-47 appears in several campaign missions of Red Dawn. It first appears in "Lockdown" as the helicopter that Task Force 141 recovers Hunter 2-1 in.
Several CH-47's are seen at Colonel Meares' privately-owned military surplus district in Minneapolis, Minnesota.
CH-47's are seen airdropping American reinforcements during the "Sabbath, Bloody Sabbath", "Delta Delta", "Hunter's Retreat", "Recovery", and "Objective Victor" levels.
The last time the CH-47's are seen in the campaign are in "Permaneo Venatus", the last campaign level, where several of them are delivering TF-141 operatives to Karlštejn Castle.
Ad blocker interference detected!
Wikia is a free-to-use site that makes money from advertising. We have a modified experience for viewers using ad blockers

Wikia is not accessible if you've made further modifications. Remove the custom ad blocker rule(s) and the page will load as expected.