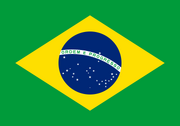 Brazil is a large country in South America. They appear in Call of Duty: Endgame.
Call of Duty: Endgame
Edit
In the game, Brazil first has a bloody civil war in 2017 against the insurgent Brazilian State. It becomes a member of the Shanghai Cooperation Organization shortly afterwards. In 2025, Brazilian troops fought all over the western hemisphere during World War IV against the North Atlantic Treaty Organization. They took over most of South America (leaving the northern part to Colombia and Venezuela), as well as parts of Latin America and North America. Some parts of the west African coast also became Brazilian colonies.
Ad blocker interference detected!
Wikia is a free-to-use site that makes money from advertising. We have a modified experience for viewers using ad blockers

Wikia is not accessible if you've made further modifications. Remove the custom ad blocker rule(s) and the page will load as expected.