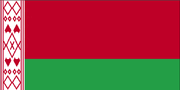 Belarus is a country in eastern Europe. It appeared in Call of Duty: Endgame.
Call of Duty: Endgame
Edit
It was a strong ally of Russia and joined the Shanghai Cooperation Organization in 2014. In 2025, it went to war with North Atlantic Treaty Organization and was a major player in the war. Belarusian troops fought alongside others in taking Europe, and were deployed in Africa and the Americas as well.
Ad blocker interference detected!
Wikia is a free-to-use site that makes money from advertising. We have a modified experience for viewers using ad blockers

Wikia is not accessible if you've made further modifications. Remove the custom ad blocker rule(s) and the page will load as expected.